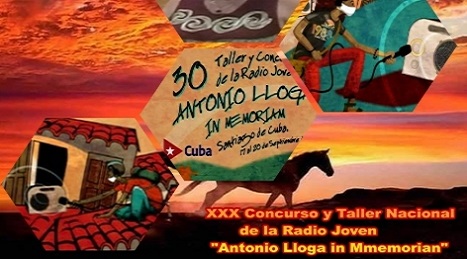 Text and photo Yailen Aguilar
Santiago de Cuba, CMKC, Radio Revolucion.- The CMKC theater hosted the award sesión of the current edition of the Antonio Lloga Workshop and Contest of Young Radio People, "30 years awarding stories, innovation and sound".
The highlight of the session was the recognition of announcer Angel Miguel Alea as Radio Master for his contribution to radio and for his legacy in training so many generations of professionals.
This provincial radio station also received the appreciation of the "Hermanos Saiz Association".
Other recognitions were for the Provincial Radio Board and its support for the sustainability of the event, to the University of Oriente, to photographer Ruben Aja, the actor Alcides Carlos and to the permanent traveling companions in the oldest radio contest in the country: the Lloga family.
In response, the descendants of the Radio Man recognized the members of the Santiago de Cuba artistic vanguard as dedicated guardians and promoters of the Legacy of Antonio Lloga.