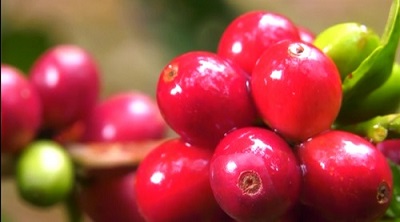 By Camilo Gonzalez
CMKC, Radio Revolucion.- The Santiago de Cuba province, the biggest coffee producer in the country, is preparing the crop for the coming September. Production plans are aiming at 4 314 tons, 119 more than in 2019.
Wilmer Guevara, provincial delegate of the Ministry of Agriculture explained a vast comprehensive plan that covers all fields of actions.
The Coffee Development Program will secure 35 essential tasks, among them, planting and replanting of more than 3 200 ha (7 907 a) to support the vitality of production areas with 19 400 000 nursery created plants.
The challenge is not to lose a single cherry, to increase coffee pickers' productivity and efficiency to meet the demands of mechanic dryers, mills, and pulping machines.
Now they are preparing different kind of vehicles, as well as horses, mules and oxen to save fuel and for their suitability for this kind of work.
They are also working on other essential complements for the job, such as guaranteeing horse shoes and their nails, ropes, and mountain road repair to secure the crop transportation.
According to Mr. Guevara, other aspects to be taken into account are contracting of productions at good prices to improve quality life of the coffee croppers and to avoid illegal actions.
The Tercer Frente municipality, the largest coffee Cuban producer, has planned more than 1 300 tons of coffee and it is still hiring peasants and cooperative members, according to Angel Mendoza, the general manager of the agroforestry company in the area.
This year, and as one of the steps implemented for the covid-19 pandemic, there will be no student mobilizations to assist picking coffee in the Sierra Maestra mountains.
The facilities for the working force are being restored taking into account the restrictions imposed by covid-19. Mr. Mendoza added that thanks to the Vietnamese experience and assistance the agricultural yield per ha has increased to more than 1.5 gold type coffee.