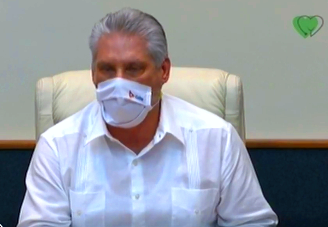 Cuban President Miguel Diaz-Canel has urged to tell the country's truths to the world on social media, in view of U.S. hardened media aggression.

In his Twitter account, the President pointed out that the U.S. government is using its entire arsenal of unconventional weapons against the island, and he called on Cubans and friends to have greater presence on the Internet.
'Our reasons and truths, convictions and achievements must be visible and present in social media,' the Head of State stressed.
Yesterday, the Director General of the Cuban Foreign Ministry U.S. Office, Carlos Fernandez, denounced in an article in Granma newspaper that the White House is allocating millions of dollars in funds to distorting Cuba's image.
To this end, the official said, they make intensive use of social media and propaganda laboratories.
'The U.S. broadcasting machine is striving to present Cuba as an unviable, decadent country with widespread misery and, curiously, deserving of increasingly hostile actions to try to make the desolate panorama it describes a reality,' Fernandez said.
The diplomat pointed out that to undertake such an ambitious aggression, one has to resort to lies in the most absolute and shameless way.
Faced with this new type of war, the Cuban President urged to defend Cuban reality on the web.