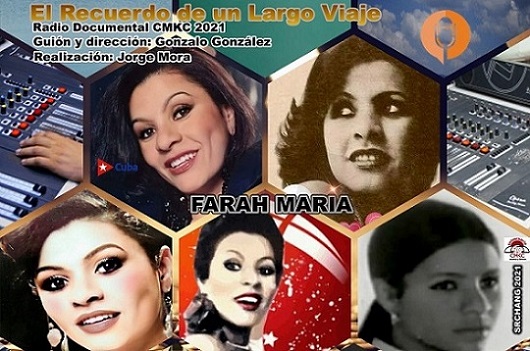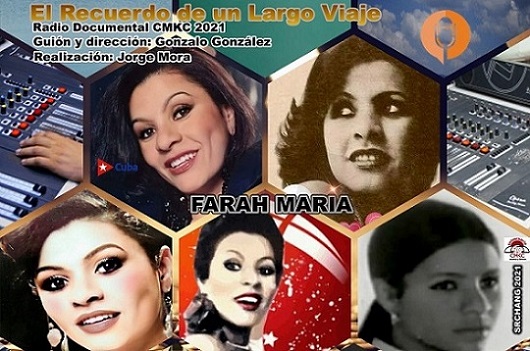 Documentary By: Gonzalo Gonzalez
The people of Cuba bid farewell to Farah Maria, the Cuban Gazelle, on December 30th, 2020, at the age of 76. She was one of the singers who interpreted the most works of the composer and Commander of the Revolution Juan Almeida. Among the most important medals and awards she received are the Medal for Literacy and the Distinction for National Culture.
Farah Maria will always be remembered by the people in songs such as El tiburón (No te bañes en el malecón…) (The Shark, Don't Swim by the Seawall), the tango Adiós muchachos, (Goodbye, boys), La negra Tomasa (Black Tomasa) and in her very personal versions of La flor de la canela (The Cinnamon Flower). Likewise, in El pájaro Chogui (The Chogui Bird) and Alardoso (The Boaster) or in El Mayor (The Major) and El día feliz que está llegando,(A Happy Day is Coming) both by Silvio Rodríguez.
CMKC, pays tribute to Farah Maria, through this radio documentary which includes the testimonies of people very close to the artistic and private life of the Cuban Gazelle, among them, the legendary Meme Solís, Miguel Angel Piña, Hector Tellez and her own daughter Farah Mañalich Garcia.
With this official presentation on the Internet, we also thank many listeners who asked to listen again to this radio documentary premiered by CMKC and which is already part of our sound archive as one of the greatest hits in 90 years of Excellence and Distinction.
With a very special personality, the performer who won awards in countries like Japan, Germany, Bulgaria and Poland, and also performed in the Soviet Union, Chile, Italy, Mexico, Panama, Colombia and Spain, took advantage of her knowledge of dance and body language to excel in the different stages where she performed.
Masters such as Adolfo Guzman, Juan Almeida, Meme Solis, Silvio Rodriguez, Mario Aguirre, Juan Pablo Torres and Eddy Gaytan, among others composed songs for her. She had the honor of performing at the "Garcia Lorca" Gran Teatro de La Habana with Josephine Baker and Bola de Nieve.
In movies she acted alongside Enrique Santiesteban in El jinete sin cabeza (The Headless Rider), in Czechoslovakia, and in Verde verde (Green Green), by filmmaker Enrique Pineda Barnet, alongside renowned actor Hector Noas. She also did musical comedy.
The people will always remember Farah for her participation in the well-known quartet Los Meme with Hector Tellez, Miguel Angel Piña and Meme Solis, after replacing Moraima Secada. There was no genre in which she did not put her personal seal and charisma, attributes that made her immortal in Cuban music.
Farah Maria is the artistic name of Fara García Callava (Havana, December 7th, 1944 – Havana, December 30th, 2020), Cuban singer also known as The Cuban Gazelle, as a symbol of Cuban grace, sensuality and mestizo beauty.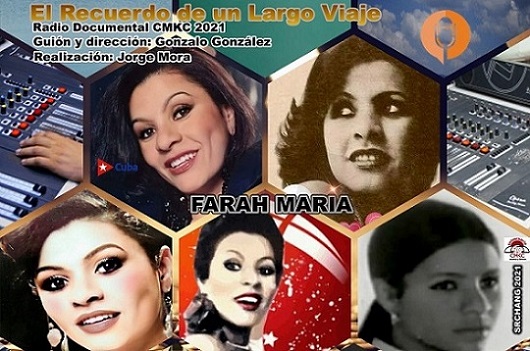 She was a singer who knew how to choose her repertoire and demonstrated elegance and mastery on stage. She ventured into almost all genres of Cuban and international music.