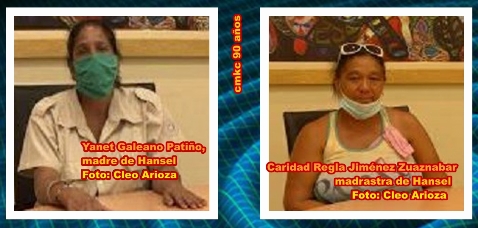 The mother and stepmother of Hansel Ernesto Hernandez, who was killed by a police officer, disavowed the campaign against Cuba by manipulating the causes of the event, according to news reports today.

Yanet Galeano, Hansel Ernesto's mother, expressed her confidence in the government and its justice agencies, and she is sure of the transparency of the judicial process, which is proceeding.
In an interview with the digital version of the Tribuna de La Habana newspaper, Galeano assured that she feels identified with the Revolution.
The young man died last June 24 in the capital's municipality of Guanabacoa (east) after being caught stealing spare parts and accessories at a bus station.
Chased by a member of the National Revolutionary Police (PNR) for identification over an uneven terrain for more than two kilometers, Hansel Ernesto threw stones at a crotch, the torso and shoulder (which was dislocated) of the officer, who shot him from the ground.
Likewise, Stepmother Caridad Regla Jimenez stated that the family maintains its position in favor of the revolutionary process, as well as its confidence that everything will develop according to the law.
It meant that the family never gave their consent for using the tragedy on social networks, much less the distorted manipulation given by those elements that she denounces in her statements.
According to Tribuna de La Habana's version and reviewed by other media, the campaign unleashed from the platforms at the service of the United States government has as its supreme objective to create states of irritation and rejection to the PNR.
The Cuban Interior Ministry later regretted the events.
'Immediately after, and due to the danger to his life because of the magnitude of the aggression, the policeman shot from the floor with his regulation weapon, which hit the individual and caused his death', explained in the note.
Hansel Ernesto, 27 years old, had a history of threats, lewd abuse and violent robbery, for which he served his sentence and was on probation.