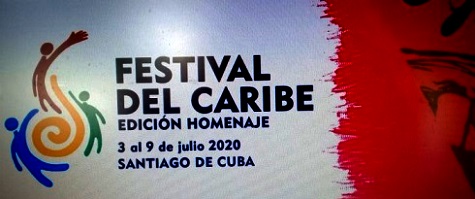 Text and Foto: Martha Cabrales Arias
CMKC, Radio Revolution, Santiago de Cuba, – The International Festival of the Caribbean has been held in this city for almost 40 years, many of them under the leadership of late Joel James Figarola, several of its founders got together to recall the event, cut short this year by COVID- 19.
As part of a tribute that will take place on-line from July 3 through 9, the organizers and artists who have been present throughout this time and since its inception got together under the umbrella of the Caguayo Foundation.
Summoned by the Casa del Caribe, sculptor Alberto Lescay, researchers Alexis Alarcón and Abelardo Larduet, playwright Agustín Mateo and Félix Bandera, director of the emblematic 'Conga de Los Hoyos', attended the meeting, which relived anecdotes from those early days.
They recalled that with the support of the Ministry of Culture and other Cuban institutions, the First Festival of Caribbean Performing Arts opened in April 1981, which despite facing many obstacles over the years it turned into a jubilee of regional spirituality.
The activities scheduled for early July, beginning of the summer season in Cuba, will highlight the legacy of the International Festival of the Caribbean, and will also serve for convening the 40th edition, which will take place in 2021 and will ratify Belize as the guest country.