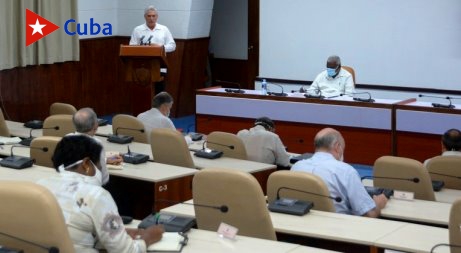 Cuban President Miguel Díaz-Canel, has called to prioritize the recovery of damages caused by tropical storm Laura on the island.

'The philosophy is to end these damages so they can be removed immediately, as we did with last year's tornado in Havana,' the president emphasized at a meeting of the Economic-Social Organ of the National Defense Council last night.
According to the website of the Presidency of Cuba, Díaz-Canel assessed with governors and ministers the preliminary effects of the tropical storm from the provinces of Mayabeque (in the west) to Guantánamo (in the east).
Preliminary estimates indicates close to a thousand homes suffered damages as a result of Laura. It is little compared to other events, the Head of State said, urging they have to be recovered immediately, especially homes that totally collapsed.
About 316.000 people were evacuated in the country, most of them went to homes of relatives and neighbors, Chief Staff of the National Civil Defense Ramón Pardo Guerra said.
The damages are in homes, mainly on their roofs; power lines, with over 360 interrupted circuits throughout the country; and in agriculture, particularly in banana plantations in the eastern part of the island, he specified.