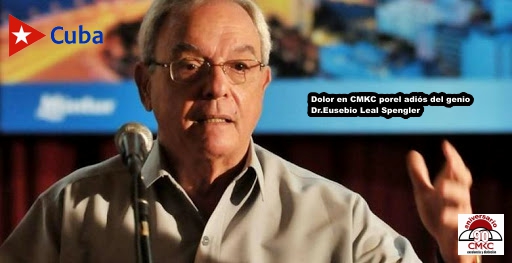 This Friday morning, Eusebio Leal Spengler died, following a long, painful illness.
In accordance with his family's wishes, Leal's ashes will be preserved, and once the COVID-19 epidemic is under control, in just recognition of his enduring work, our people will be able to pay their respects at the Capitol in Havana, an emblematic edifice restored under his guidance, for the benefit of the nation.
BIOGRAPHY
(From the Havana City Historian's Office)
Eusebio Leal was born in his beloved Havana on September 11, 1942.
– PhD in Historical Sciences at the University of Havana – 2000, Master's Degree in Latin American, Caribbean and Cuban Studies, Specialist in Archaeological Sciences, 1975 Bachelor's degree in History
-Postgraduate studies in Italy in restoration of Historical Centers, on a scholarship granted by the country's Ministry of Foreign Affairs – 1980
-Member of the Communist Party of Cuba Central Committee since its IV Congress in 1991
-Deputy to the National Assembly of People's Power from 1993 to date.
-United Nations Goodwill Ambassador – 1996
-He began working in 1959 at the Havana Metropolitan Administration and in 1967 was appointed Director of the Havana City Museum, succeeding Dr. Emilio Roig de Leushenring, as the eminent intellectual's disciple.
-He assumed direction of restoration works of the city government's headquarters, the former Palace of the Captains General and the Captain's residence, completed in 1979.
-In 1981 he was given the responsibility of conducting restoration works approved by the City government on May 5 of that year.
-On April 16, 1986 he is assigned the responsibility of the works on the San Carlos de La Cabaña Fortress and, later, the Morro.
-Historian of the City of Havana
-President of the Cuba – Mexico Parliamentarian Friendship Group.
-Vice-president of the Cuba-Japan Parliamentarian Friendship Group.