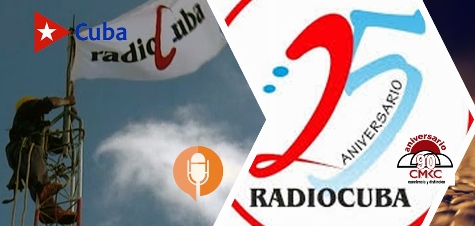 Translated by: Guillermo Rodriguez Cortes
Santiago de Cuba, CMKC, Radio Revolucion – Radiocuba, Cuba's radio communication and broadcasting company, is celebrating its 25th anniversary.
It was created in October 1995 by the then Ministry of Communications after a process of merging different companies dedicated to telecommunications.
Among its historical antecedents, there are the first radio transmissions, the first television commercial in 1922 and 1950 respectively, and the prominence of the satellite signal through an airship, which took place in the middle of the 20th century.
At present more than 100 national, provincial and local radio stations, national television channels and provincial and local TV stations are on the air. It has more than 1000 transmitters in its network, located in transmitter centers that offer coverage to a vast part of the national territory.
It also offers technical facilities rental services to other companies dedicated to communications. For international broadcasting, it has three high-powered short wave transmission centers with coverage to all America and other regions of the world.
It has invested in building local television and radio stations, located in several municipalities of the country, satellite receivers in areas where there is no signal or it is defficient, as well as in the implementation and operation of the program headers for the satellite transmission of radio and television with coverage to most of the American continent and 100% of the national territory.
It is a company that constantly modernizes and reorganizes the national broadcasting network; it has a team of professionals to plan and conduct its business strategies, and perform its duties in software and hardware. RadioCuba has projects with several countries in four continents.