Vilma, Second Front, Santiago de Cuba –On a clear morning, rarely seen here, where mist usually covers the hills at daybreak, flowers arrived for Vilma Espin, from her partner in war and life, Army General Raúl Castro Ruz, first secretary of the Party Central Committee, on the 91st anniversary of the heroine's birth, yesterday April 7.
Vilma,- At the foot of the monumental boulder that holds the ashes of the exemplary fighter in the underground and guerrilla struggles, within the Frank País Second Front heroes and martyrs mausoleum, the flowers were placed, alongside a wreath sent on behalf of the Cuban people, carried to the site by Lázaro Expósito Canto and Beatriz Johnson Urrutia, president and vice-president of the Provincial Defense Council.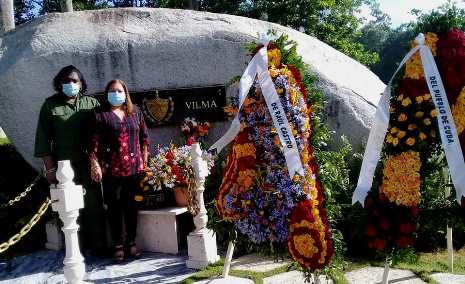 President of the Republic Miguel Díaz-Canel Bermúdez remembered Vilma on the occasion, posting a comment on Twitter, «She was the Revolution dressed as a woman.
Her tender firmness in founding a work and a family, in organizing with women a Revolution within the Revolution, must serve as a permanent school in the Cuba she loved so much. A flower for Vilma Espín in her 91st year.»
Author: Eduardo Palomares Calderón | palomares@granma.cu
Whenever one recalls the most genuine values of this Cuban land, Vilma's name comes up.
We all remember your tireless neat moves; and your warm smile reflects on all Cuban women, who as heiresses of your patriotism are determined to continue your work.
Vilma, what sense of duty did you have? What exceptional sensibility was in you? You gave yourself to others. You were a selfless, firm revolutionary woman that stood as a banner for all of us.
The marks that you left in the underground struggle, in the Sierra Maestra mountains, in every step of the female Cuban socialism are still fresh.
You never doubted that the definite triumph over the oppressors of this Island would be the necessary drive to put women in their right place in history, as leaders of the Revolution, as decision makers of their destiny.
Your morale was so high, so accurate your judgments and principles that your brothers and sisters in the struggle always respected you.
You always had a complete comprehensive vision of what the Cuba you and your colleagues dreamed of should be.
That is why you humbly became the voice of millions of Cuban women who identified you with Mariana GrajalesꞋ lineage and Anna Betancourt's bravery and boldness, therefore a guide and inspirer of the most intense transformations for the full integration of women in society. We owe all it to you.
You received the most sincere love from your people, thus you will never die or be forgotten. You are a seed in the souls of young girls who dream with a bright future.
That is why when the leading female organization that you founded guided by Fidel is ready to celebrate one more anniversary we feel your presence in the air.
We are living hard times, the country calls us, and women respond: tireless in production, optimistic in laboratories, ready to fight viruses here and abroad, guardians of the family; they have definitely followed the slogan to think and act as a country. And that, Vilma, heroine, mother, revolutionary is thanks to your principles, your sleepless nights and total devotion for women's dignity.